Protecting inventions was a lifelong interest for Seppo Laine (M.Sc (Eng)) . To help inventors safeguard their creations, he established his company as a solo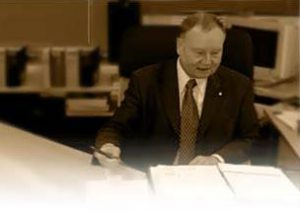 practitioner on October 1st, 1979. Located on Jääkärinkatu street in Helsinki, Mr. Laine's first office was a small two-room apartment, and initially his equipment consisted only of a typewriter and an attorney case.
As an experienced and respected patent attorney and manager, Mr. Laine chose his staff carefully so that each team member would be the perfect match for both the IPR industry and the company. As a guideline, he stated the following ideals:
"Let our goal for our collaboration be a spirit of freedom as well as respect for each individual, so that each of us might develop themselves as part of a small, effective group – not only as professionals but also as human beings. Achieving this goal will result in us being the best patent attorney office in Finland."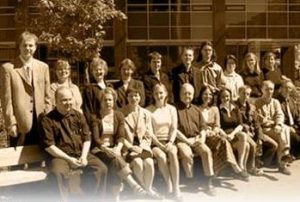 The limited liability company Seppo Laine Oy was established on February 17th 1994, and the company moved to new premises in the Ruoholahti district of Helsinki in July 1998. It was not long before several other patent agencies followed.
Seppo Laine Oy and Oy Jalo Ant-Wuorinen Ab joined forces in a 2015 company merger, but the patent agencies already had nearly 40 years of shared history. The first meeting of the two practices in 1981 did not lack pomp and circumstance, as patent attorneys from the both firms attended the same viewing party of the British royal wedding.
The official name of the company is Laine IP Oy as of January 24, 2020.
Eco-friendliness has always been a core value for Laine IP Oy. In 2009, the company was awarded Green Office certification by the World Wildlife Federation (WWF). Caring for our shared environment is part of everything the company does, and all our services are offered cost-effectively while adhering to the principles of sustainable development.
Laine IP Oy is the only Finnish office that can handle applications directly from Helsinki with the United States Patent and Trademark Office (USPTO) through its team of certified US Patent Agents based in Finland.
Our goal is to be the leading partner for IPR protection, whether you are a startup or a global corporation. We provide a full range of IPR services with care and respect for both our clients and partner companies, with over 90 years of experience in the industry.